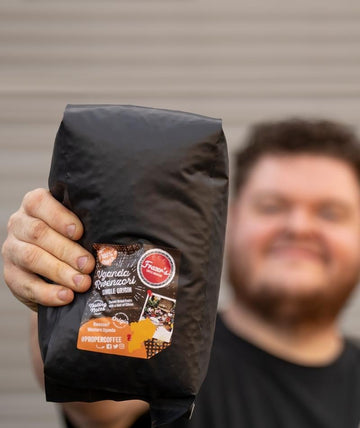 WE NOW HAVE A ONSITE COFFEE SHOP.

ALWAYS FRESHLY ROASTED
When you order coffee online, we roast and post it the following day. You can't get fresher than that!
THE VERY BEST BEANS
We pay more for our beans because they are speciality coffee beans and we deal with the farmers directly; you can tell the difference!
RESPONSIBLE FARMING
We also pay more because our farmers are top quality and deserve a proper cut for proper coffee.
Find Out More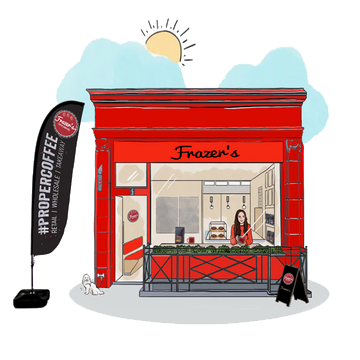 Roasted in
Sheffield.

The beans are roasted in Sheffield, the greenest city in the whole of Europe. With one third of Sheffield sitting in the Peak District National Park, we have the highest ratio of trees to people of any European city.
Sheffield is also recognized as the world centre of high-grade steel manufacture. Frazer's roastery was built using Sheffields's steel. The roaster allows Frazer's to taste, cup and profile its roasts to ensure the consistent taste of #propercoffee.
Find Out More
A cup of Frazer's coffee to complete your day
#Proper Coffee starting directly from the source
We are proud to say that Frazer's Coffee Roasters only source its coffee beans directly from the farmers.

This means the coffee you are dirnking is 100% traceable. Frazer's Coffee Roasters supports Fairtrade, Rainforest Alliance and organic coffees in order to give farmers the wages they deserve and ensure environmental good practices are in place.
Get Now
Join 150,000+ customers making more sustainable coffee at home.
It was like having a blind date with coffee
"Highly recommended! And most importantly, very transparent and responsible for its actions, something that is not easy to find these days. The coffee is insanely delicious"
I actually skip downstairs in the morning now
"Amazing coffee, gorgeous recycable packaging that lands on my doorstep & super friendly personable service. I highly recommend it!"
Very inspiring
"And most importantly, very transparent and responsible for its actions company! Something that is not easy to find these days. And thecoffee is just insanely delicious"
One of the best coffees i ever tried!
"Honestly one of the best coffees I've ever had and I love coffee! Def
recommended."
I will certainly recommend to others.
"Thanks for being so amazing...and continuing to provide such a wonderful service"
Such good coffee from a great guy
Amazing coffee and excellent service and shipping. And if you phone up, Fraser is really helpful and interesting to talk to. Obviously knows his product, his suppliers and the provenance and origin of his coffee. Highly recommended.
The best coffee roaster in Sheffield!
My favourite Coffee! Honestly, the best Coffee I have tasted! I LOVE the Steel City and Full Monty blend and the names (of course). Frazer is such a lovely guy and is such an expert in his field he supports a lot of other local companies too and is very environmentally friendly. Highly Recommend!
Great Coffee
I first came across Frasers at the Sheffield Christmas Market a couple of years ago, buying the "Steel City" blend. I've had a few of the varieties and bought some for gifts.
Not only is the coffee great, so are the staff. Imagine my surprise to get a phone call from them to apologise that there might be a delay in my delivery due to the Covid postal issues. Luckily for me I had actually just received it the day before, but never before has a company actually made contact with me like that to apologise. Normally you might get an email, or hear nothing.
I'm looking forward to buying more and supporting great local businesses
Love em so much I bought the merch
Fantastically tasty coffee, brilliant guys and simply rate them as easily the best roasters I've tasted!
Great way to start the day !
Fabulous coffee.
My personal favourite is the Freightline blend , which always starts my day well. I keep things simple with a cafetière.
Loved it
Thanks for popping in Frazer. We loved it. That 'Steel City Blend' is amazing! 😋