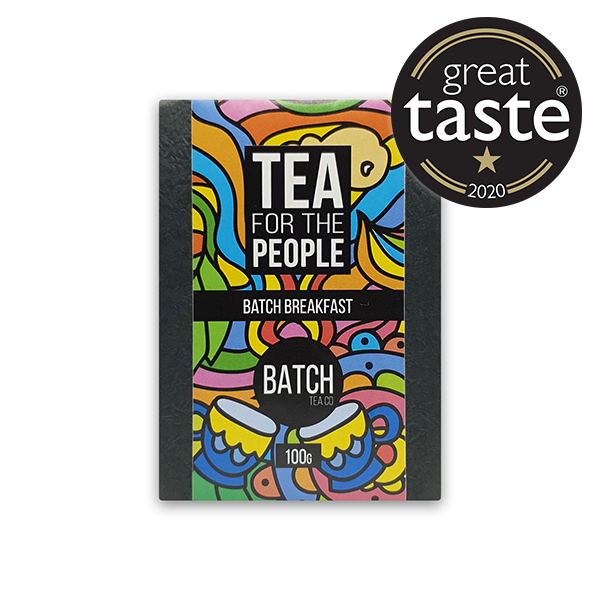 Sale price
£5.00
Regular price
Tax included.
Type: Black Tea Blend
Liquor: Dark copper
Aroma: Malty, rich caramel and dried fruit
Flavour profile: Rich and malty with dark fruit notes. Powerful without bitterness.
Summary:
Batch Breakfast is a rich blend of Assam, Darjeeling and Ceylon teas, which aims to pack a strong, punchy flavour for the discerning tea drinker.
We're big fans of a mug of 'builder's tea' and we wanted to create a tea that's not easy to forget. We tried really hard to get this one right and we (and quite a few other people we've talked to…) think we did!
The English Breakfast blend is without doubt the most famous tea blend in the world, and certainly the most consumed tea here in the UK. Everyone's got their favourite, and for some people this is all that tea is. Many people also know Scottish Breakfast Tea, traditionally a stronger brew, and also Irish Breakfast Tea, also stronger and more malty infusion than English Breakfast.
But Batch Breakfast isn't any of those. It's kind of the best bits of all 3. It's Batch Breakfast.


We tried loads of teas and then loads of variations of the ratios of teas in here to come up with our breakfast blend, and we hope you enjoy it as much as we do!
Coffee Details
Coffee Story
Roaster Notes
Shipping
Product reviews
UK ORDERS: 
FREE Collection from Roastery
Online orders under £20:
- Royal Mail First Class post. Delivery within 4-7 working days: £2.95
- DHL Tracked: £7.0
Online orders over £20:
- Royal Mail First Class post. Delivery within 4-7 working days: FREE
- DHL Tracked: £7.00
INTERNATIONAL ORDERS:
For EU and International orders, shipping costs will be calculated at checkout. Orders are sent via FedEx International Priority.
Please note, when a package is shipped internationally, it may be subject to import taxes, customs duties and/or fees imposed by the destination country.