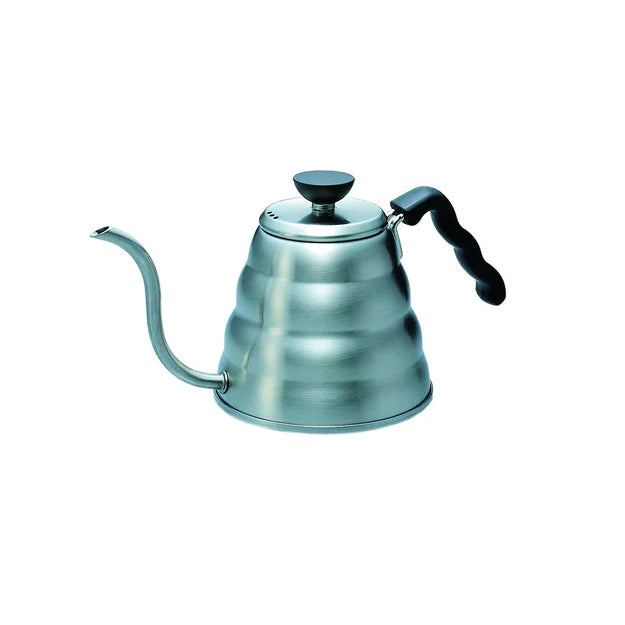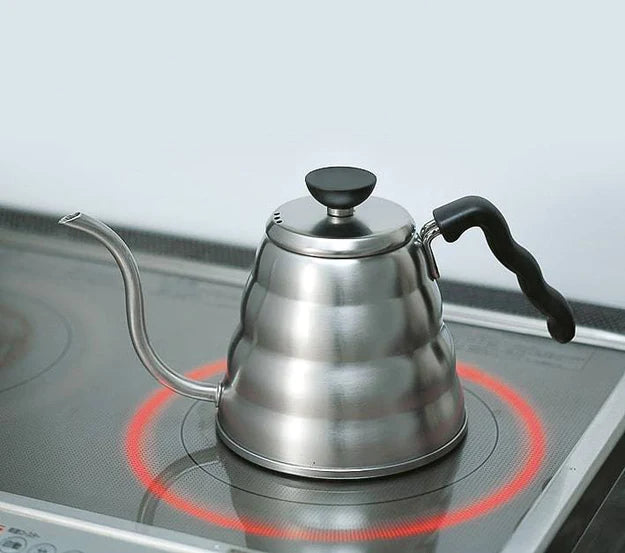 Hario V60 Buono Drip Kettle - 1.2L
Sale price
£50.40
Regular price
Tax included.
Hario V60 Pouring Kettle Buono (1.2L)
Hario V60 Buono drip kettle is very popular amongst baristas, coffeehouses and coffee lovers at home. It is unique and very reliable, that is why it is highly rated by coffee experts worldwide. Hario is known to manufacture and invent brilliant coffee equipment, so it is not an accident that the Hario V60 Buono kettle is highly rated. You will not come across many better kettles than the V60 drip kettle from Hario.
What makes the Hario kettle great is a combination of things. Its elegant design offers baristas and coffee experts at home to pour water like never before. It is not difficult to see that Hario put a lot of thought when designing the marvellous pour-over.
The low-mounted spout and a high-mounted easy-to-grip handle, allows you to take total control of the flow-rate. For this reason the Hario V60 Buono kettle is ideally used with V60 dripper brewing method. If you are familiar with it, then you know how important it is to pour the hot water over the coffee in an even and steady circular motion. Intuitive Hario kettle design makes it easy to do that and allows you to brew a perfect cup of drip coffee.
The stainless steel body with flat-bottom makes it durable, easy to clean and enables you to use it on any kind of heater. Overall the Hario V60 Buono kettle is smartly designed and makes a perfect tool for brewing great V60 pour over coffee.
Hario V60 Buono Drip Kettle Features:
Capacity: 800ml (practical capacity) / 1200ml (full capacity)
Precise pour-over spout
Easy-grip handle
Flat knob lid
Directly use for drip coffee
Material: stainless steel (body, lid) / phenol resin (handle, knob of lid)

Dimensions: W274 × D144 × H147mm
Made in Japan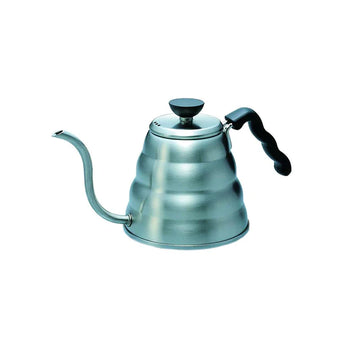 Hario V60 Buono Drip Kettle - 1.2L
Sale price
£50.40
Regular price
Coffee Details
Coffee Story
Roaster Notes
Shipping
Product reviews
UK ORDERS: 
FREE Collection from Roastery
Online orders under £20:
- Royal Mail First Class post. Delivery within 4-7 working days: £2.95
- DHL Tracked: £7.0
Online orders over £20:
- Royal Mail First Class post. Delivery within 4-7 working days: FREE
- DHL Tracked: £7.00
INTERNATIONAL ORDERS:
For EU and International orders, shipping costs will be calculated at checkout. Orders are sent via FedEx International Priority.
Please note, when a package is shipped internationally, it may be subject to import taxes, customs duties and/or fees imposed by the destination country.